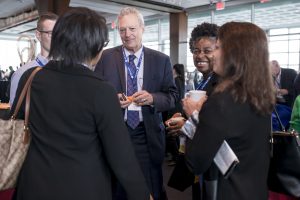 September 10, 2019,  ENR Magazine and The Karlyn Group hosted the 6th Annual Port Authority of New York/New Jersey conference. This year's theme, Reaching New Heights did just that by selling out with more than 600 attendees! Our attendees are comprised of large general contractors, architects, engineers and MWSDBEs from the NY metro area, and all throughout the country. Each year, the AEC industry comes to hear how their firm can work on some of the largest projects including airports, bridges, tunnels, bridges and ports, and about the latest capital plan, which is currently $32B and covers 600 projects.
Some highlights of the event included: An intimate discussion between Debra K. Rubin, ENR Editor-at-Large for Management, Business and Workforce; United Airlines NY/NJ president Jill Kaplan spoke about United's dedication to the MBWE Community; as well as Michael Massiah, Chief Diversity & Inclusion Officer, Office of Diversity and Inclusion. The Port Authority of NY/NJ discussed diversity updates, and other speakers included Steven Plate, Chief of Major Capital Projects, The Port Authority of NY/NJ with the Capital Projects Overview; and panels on Professional Women in Construction and Engineering; Prime Time- Building MWBE Capacity "Barriers/Break Throughs to name a few.
"This has become one of the largest regional events we do at ENR. Each year the event sells out from both the attendee and sponsor side," informs Scott Seltz, publisher of ENR Magazine. The event is supported by AEC companies including, United Airlines, Tutor Perini,  STV,  Skanska,  WSP,  CHA,  VHB, Walter P. Moore and many others. The event has become a staple for firms that want to work and currently work with the Port Authority of NY/NJ.
ENR will publish a special section in March that will re-cap the event, talk about The Port Authority of NY/NJ's diversity program and how to get certified, highlight project opportunities, and update readers on the current capital plan. "We are thrilled with the growth of this event and are looking to host one in New Jersey in the future as well," informs Amy Zucchi-Justice, Founder and Managing Director at the Karlyn Group. The Karlyn Group hosts the event along with ENR and BNP media. Mark your calendars for early September of 2020 for the next event. For more information on last weeks event, visit the website here.